3FI Update for Family-Friendly Policies at UCSF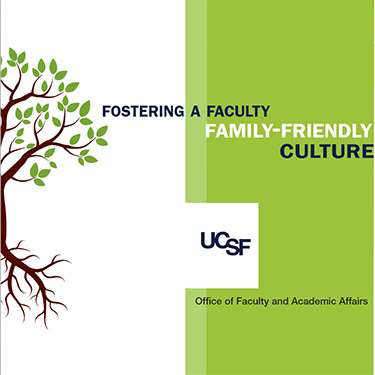 November 18, 2020 • 5:00pm
Dear colleagues,
I am pleased to provide you with an update on developments related to the Faculty Family-Friendly Initiative (3FI).
3FI Report Recommendation: Increase faculty awareness and understanding of available family-friendly policies and benefits.
Our team has developed clear, concise "fact sheets" to better inform faculty and other stakeholders of many key policies. The newest of these fact sheets, for Temporary Reduction in Percentage of Time, can now be found on our website.
You can learn about our other family friendly leave and benefit policies (Childbearing, Childrearing, Parental Leave without Pay, Stop the Clock, and Active Service-Modified Duties) and access all of our fact sheets at the Office of Faculty and Academic Affairs website.
I would like to acknowledge the effort of staff from Academic HR Shared Services, the Deans' Offices and the Office of Faculty & Academic Affairs for their work on the fact sheets as well as the ad hoc faculty workgroup (Drs. Nerrisa Ko, Jennifer Perkins, and Reza Vagefi) who have been providing valuable input on these materials prior to publication.
3FI Report Recommendation: Develop systems to track family-friendly benefits utilization.
With better data we will be able to improve our support to faculty in this area. Currently, each Temporary Reduction in Percentage of Time (TRPT) and Active Service-Modified Duties (ASMD) request is handled individually via a paper process.
I am pleased to announce that effective November 18, 2020, all TRPT and ASMD requests and approvals will be processed online in the Advance system. These new modules will simplify and standardize the request process, allow us to track utilization, and facilitate our ability to assess the impact and consequences of using these options.
New Lactation Credit and Time Holds in Ambulatory Practice.
I would like to highlight the latest development for the Lactation Accommodation Program, championed by colleagues at UCSF Campus Life Services, UCSF Health and UCSF Medical Center. The program has made improvements to support lactating parents in the clinical ambulatory work environment upon return from childbearing leave as well as ongoing efforts for other clinical environments. It serves both to protect time in clinical schedules for lactating clinicians, and also reimburses that time with wRVUs for those working in a productivity-based model. Read more about the program here.
Resource: Family Services
Visit the UCSF Campus Life Services web page for additional family services resources. It is a wonderful resource.
I look forward to providing you with another update in the spring and encourage you to visit the 3FI web page for information and updates. Please feel free to contact me directly at [email protected] with any feedback or suggestions.
Best regards,
-Brian